They Google Everything
February 24, 2022
Have you done homework with a teenager lately? I've brushed up on the industrial revolution, President Garfield, and the Gilded Age (not on HBO.)
Go ahead, ask me anything.
Wait, don't. Ask Google.
The kiddo, teachers, and the universal "we" know many answers are a Google search away. So why are most of us neglecting our own presence in the case of someone searching us?
Have you Googled yourself lately?
"It's important you do", said in the voice of my grandmother.
Over 63% of consumers say they are likely to check Google Reviews before visiting a business location, more than any other review site.

Online reviews statistics and ReviewTrackers data – 2021
With less face-to-face interaction over the last two years, consumers are relying on their own Google research more than ever.
Nitty-gritty stuff: When you Google yourself, is there a big, blank white space on the right side of the Google SERP? (That's jargon for Search Engine Results Page.)
If so, let's fix that. It's "real estate" for your taking. (Oh, that sounds like more U.S. History.)
Claim your free Google Business Profile today.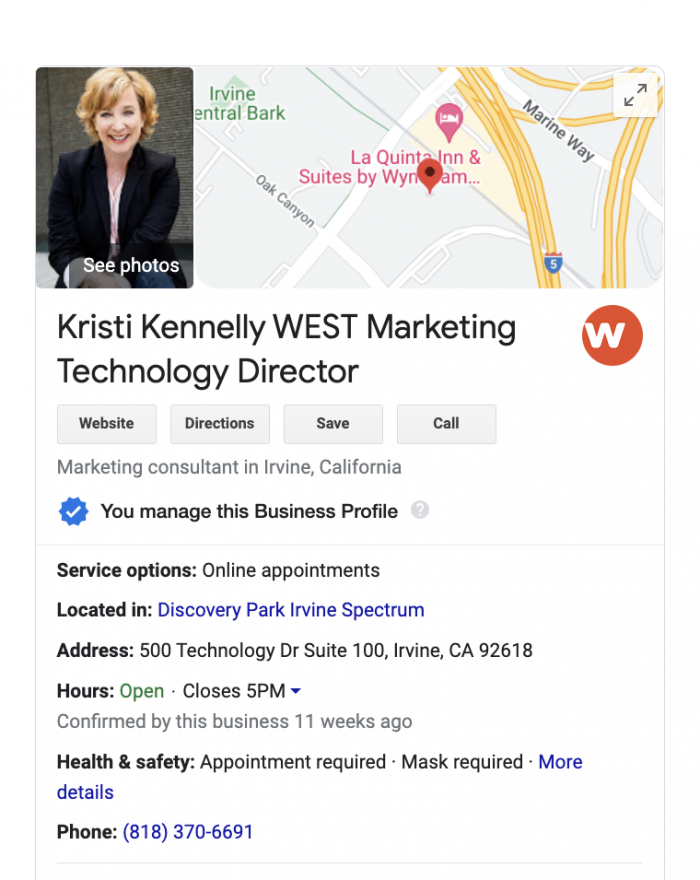 Without a doubt, you can make a bigger, better impression to a Googling consumer by claiming and optimizing your free Google Business Profile. Yup, these have been around a while. You've likely heard a speaker or coach say offhandedly, "Yeah, this should be filled out", in years past. But with the growing interest in Google's "pay per lead" top-of-the-search advertising channel called Local Service Ads, it's critical to have a polished, review-centered, geo-tagged bolstered, post-filled Google Business Profile as your foundation.
The profile is free. The ads, not so much.
To claim your free "Google Business Profile", start here:
A few items to consider:
Your business name should be "Your Name Realtor" or "Your Name Real Estate Agent". This mitigates some confusion around more common names and clearly states what you do. This is helpful for new agents, or if you have some legacy information from a former career floating around on the interwebs.
Don't accidentally claim your brokerage's profile as yours. This mistake often happens after you've entered your office location and then Google asks if a current address is yours. It's a little tricky. You want to click "None of these" if that message pops up.
Your verification process may happen by mail, digitally, or instantly. It's difficult to predict exactly what Google will do. Just know there will be some kind of process.
Google does not make it obvious where to post videos on your profile. Post videos in the "Photos" section. You get 75 mb and you can post both vertical and horizontal formats.
Photos, Products, and Posts! I like to say, "If there's a field, fill it out on Google." Upload geotagged photos. Create "Products" for your listings, guides, and home valuation tools. And post like you would to your Facebook or Instagram page. Helpful tips, quotes from reviews, and your "Just Solds" work quite well as updates.
Remember, don't do anything in "bulk" with Google. For example, don't request 40 reviews in one sitting, don't upload 100 photos while watching March Madness… Google will think you're a robot and flag you. Feed Google regularly and consistently – like a teenager. A few photos, posts, and reviews per week should do the trick.
Once that Google Profile is in shape, your next step is to Google "Best realtor in your city". Who comes up at the top? Those are agents who have gone through a screening process and purchased Local Service Ads after optimizing a Business Profile. More on that in a different post.
For now, look at your Google Business Profile as seriously as you would look at Google Pay per Click Ads, or your SEO with blog posting, or your YouTube strategy. I know all of this can feel a bit like Google's circus of tools, but if someone searches your name, or searches "best realtor in xyz city", the intent is high and they just may step right on up to connect with you.
And, as my kid would say, you'll look "legit".