6 Email Marketing Statistics that Every Real Estate Agent Should Know in 2022
February 1, 2022
Think email marketing is dead? Think again! Here are 5 statistics that show that in this competitive real estate landscape, email marketing – if done well – can deliver an incredible return on investment and help turn your real estate prospects into loyal clients.
If you break down the math, that equates to an astounding 4,200% ROI! Any form of marketing that can boast this kind of return gets my attention…what about you?
This number puts email at the top of the list as one of the most effective marketing options available to you, and if it's not part of your marketing mix, I would put it back in the rotation in 2022. The key is to do it differently than you did years ago. Consumer expectations have evolved and our way of email marketing must evolve with them in order to deliver these kind of results.
78% of marketers have seen an increase in email engagement over the last 12 months (Hubspot)
Whether from the isolation of being quarantined at home, a disillusionment with social media, or something else entirely , there's an uptick in the number of consumers engaging with email marketing. Use this to your advantage and consider re-engaging your real estate prospects, SOI and past clients with this form of communication.
Email is 40 times more effective at acquiring new customers than Facebook and Twitter combined. (McKinsey & Company)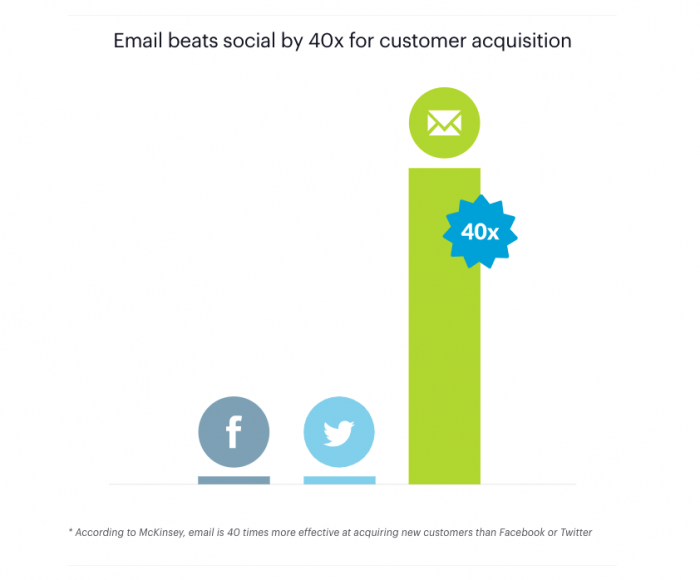 I must admit that my jaw almost hit the floor when I read this statistic.
In many of my conversations with real estate and mortgage professionals, improving how they leverage social media to drive business is a primary focus. This can be a challenging undertaking, given the constantly evolving algorithms and the fact that social media is rented ground.
If you've been frustrated by the results you've received through social media, the good news is that your trusty old email is actually potentially stronger at turning relationships into customers.   Make sure that those people you're engaging with on social media are also in your database, so you can leverage email (plus phone calls and/or texting!) as a way of nurturing that relationship.  
Marketers who use segmented campaigns note as much as a 760% increase in revenue (CampaignMonitor)
This statistic points to the importance of keeping your email content as relevant and personalized as possible.
Gone are the days when you could deliver one canned email newsletter to your whole database and expect results.  You're now competing with a ton of marketing noise, so capturing attention is paramount, and one of the greatest ways to capture attention is to deliver content that is meaningful and personalized to the recipient.  
Segmenting your email list helps you to do just that. You can segment your audience by geographic area, demographic data, past engagement with your campaigns, past behaviors (like the events they attended, or whether they bought or sold with you), preferences, and more.
"Personalization—it is not about first/last name. It's about relevant content." – Dan Jak
When you segment your audience and deliver more relevant messaging, you're more likely to engage their attention, earn trust by helping them to feel like you know and understand them, and get them to consistently interact with your content, which leads to stronger open rates, higher conversions and ultimately greater ROI. #winning
Email is considered the most personal method of brand communication by 74% of Baby Boomers, 72% of Gen X, 64% of Millennials, and 60% of Gen Z Users. (Bluecore)
If you're a real estate agent, your clients likely range from young Millennial or Gen Z first time buyers to retired Baby Boomers looking to sell and/or downsize.  These different generations often have different communication preferences and gravitate toward different marketing styles and channels,  so it can be difficult to identify one marketing strategy that appeals to all of them!  However, email may just fit the bill. 
Because all these generations use email, if you can create email marketing messages that are relevant and feel personal to the human on the other end, it can be a great way to communicate with your people no matter what their phase in life.
"I want to do a business with a company that treats emailing me as a privilege, not a transaction." – Andrea Mignolo
In conclusion
Though it's not a shiny, new marketing channel like TikTok or Instagram Reels, email marketing is still an incredibly effective marketing tool for your real estate business. I hope these statistics help to re-excite you about the possibilities that email marketing has to help you build valuable client relationships and convert more business in 2022.