The Art of the CMA-with Greg Robertson
Last Update On: December 2, 2020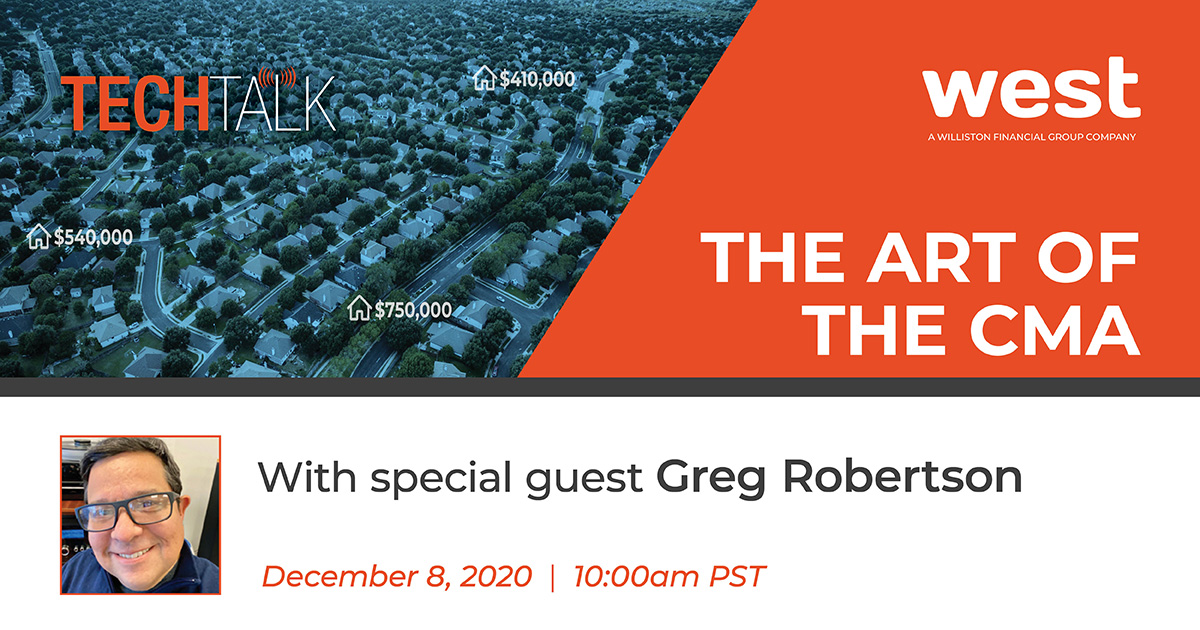 449 people viewed this event.
WEST is excited to present Tech Talks! These are power-packed educational sessions that will provide you with skills you can use to differentiate yourself from the competition in today's ever-changing real estate landscape.
Join us for "The Art of the CMA" with special guest Greg Robertson.
Artificial intelligence is just that, artificial, it's not real. When it comes to something as crucial as pricing a home, nothing beats the eyes, ears, nose – and skills – of a good real estate agent. Learn from Greg Robertson, co-founder of W+R Studios, the makers of CloudCMA, and author of The Art of the CMA, how to reboot, refresh and upgrade your CMA.
Registration includes your chance to win 1 of 100 free copies of his book, The Art of the CMA!
A bit more about Greg Robertson:
Greg Robertson is the co-founder and CEO of W+R Studios. W+R Studios is a privately-held software company located in Huntington Beach, California, and makers of the Cloud Agent Suite (http://CloudAgentSuite.com), which is licensed to more than 500,000 real estate agents in North America. The Cloud Agent Suite contains the popular Cloud CMA, Cloud Streams, Cloud MLX, Cloud Attract, and the new Homebeat.
Greg has been in the real estate technology business for over 28 years. He is the author of the new book "The Art of the CMA." Greg also publishes the popular real estate technology/ industry blog, Vendor Alley (http://VendorAlley.com) and produces and hosts 2 podcasts, Industry Relations, and Listing Bits.